With the bad posts on cover models and their egos. You have men like this who are humble and kind. He is the first person to stand up and make sure someone in need is taken care of . Not only are you gorgeous but John Joseph Quinlan you are an amazing person and I am glad to call you a friend!!!
Brianne Whitmire
I just adore you. You have never been anything but kind, well mannered, professional and an absolute sweet heart to me… and you do it all while looking bad ass. Best of both worlds.
Seraphina Donavan
You know I love you to pieces. It's always a joy to see you at the con and I look forward to seeing you again next year.
Katherine Wilburn
Hey I know first hand what a kind & gentle soul you have!! And I'm better for having knowing you!!
Alyson Little
You get back what you put out. Gratefulness and humility go a long way in the romance industry. I've been following you for a while now. You're one of the good guys. Keep doing what you're doing.
Tiffany Buczek
You still the best! Don't let the haters pull you down. You got a smile and a heart of gold.
Shalawn Marche Dillon
Thankfully only one of the badly behaving models can claim any connection to RT. You're definitely one of the good ones!
Ashley Martinez
All the cover models I met at #RT16 were genuinely nice people. This asshole doesn't reflect on any of you.
Sarah Hegger
You are a true gentleman.
Julie Jilderda Berghammer
You know I love and adore you! I could never describe how nice you are and for that you will go far in this life. Kindness and humility go a long way in this world! Personal things you have helped me with, taking up time with my son, whom you don't even know. The best! Hot + sweet + best hugs + heart of gold! And always a true gentleman. I am so thankful to call you a true friend! That can't be beat!!
Allison Tee
You have never been anything other than a good example, a loving father and authentic that I can see. You seem very kind and hard working John. Your smile is illuminating when you do it. You're one of the good guys.
Sharon Johnson
John Joseph Quinlan you are amazing. You are one of my favorite people!! Thank you for all you do for us in the book world.
Brianne Whitmire
I met you last year in Dallas, you are a very sweet and professional man. All the models my friend and I met were very kind. I'm sorry the one or two bad apples are destroying the reputation of you all. I hope I get to see you and the many other kind models at RT next year. Sending you love and prayers John Joseph Quinlan.
Jenn Schneider-Sibberson
I was there when you first came in to RT and you've always been the best a gentleman. I call you a friend for a good reason.
Tamara McHatton
We know that you are wonderful.
Leanore Elliott
I think everyone adores you John Joseph Quinlan, heart of gold is right. Proud to be your friend!
Kristin Secorsky
You are awesome! I haven't had the pleasure yet of putting you on one of my covers but be assured we will talk.
LaVerne Thompson
You have always been a kind and a genuine nice guy every time I have met you. Thank you!!!
Jennifer Kaleta
You have always been great to me!
Jen Spaulding
John you are an amazing man.
Denise Sunderland
I can only comment on my experience and right from the start you were friendly and very approachable! Took your time to chat and take pictures with me and my friend!! Tank you for being super cool!!
Sandra Robles
John you are a great man a with a good heart and as your friend in the world we work in your a standup guy and a great dad. I'm proud to call you my friend but always remember there are bad apples in ever tree but the good ones are the only ones that get picked. Hold your head up high my friend people are jealous of what you have because they don't have the drive to do what you do. Big respect for you.
Thomas Lafleur
You have have always been great to me John. You have a great heart.
Steph C Brentson
You're fabulous John Joseph Quinlan, the cover you did for Jennifer Sage's The Last Valkyrie was phenomenal…..and you come across as a wonderful role model for all in your chosen professions, I wish you nothing but good luck in all your future ventures.
Maria Weeks
Agree with Maria, John. I can say nothing but nice things about you.
Claudia Bost
Loved meeting you at RT!
Kaily Hart
We all know your a great guy John!
Debi Price
You already know how we do. I could never say a bad word about you because you are one of the sweetest people I know and I'm so glad to have met you.
Shasa Walters
Looking forward to meeting you some day!
Angie Miller Craig
LOVE you John MWAH!!!!!!!!!!
Opal Campbell
You've always been great John – so proud to know ya.
Dawn Daydrmz Blogg
I've only ever heard wonderful things about you. smile emoticon If I ever get to RT I would love to meet you.
Connie Scholey
Was so great to finally meet you in person after all these years.
Shana Gray
You have always seemed to be one of the good guys to me!
Carol Purcell
You are a positive role model to many people, hard working, and constantly positive!
Much Respect & Best Wishes.
Joseph White
I have been fortunate enough to witness your heart of gold and your professionalism. I would recommend you to anyone in a heartbeat and that is something I would normally be hesitant to do. It's been my honor to work with you. Thank you for sticking with me and my crazy ideas.
Roxanna Rose
You are a great man, who I admire and consider a friend!
Hildie McQueen
John Joseph Quinlan you totally Rock!
Rebecca Lewis
John, you are one of the good guys brother, always a stand up guy!
Marc Ginnetti
I'm honored to call you a FB friend , which I hope to one day meet for real!
Julie Kirby
You are a sweetheart! It was great seeing you this year and I look forward to seeing you again next year!
Lexi Smith
If Allison Tee loves you than I love you!
Laurel Lasky
You are my go to guy. As an author, I go to you for professional photos. As my friend, I go to you for support and advice. I love and admire you and treasure our friendship.
Taabia Dupree
Sugar you are one of the good guys.
Kay McBroom Owens
You've got a heart of gold, John. I always love seeing your positive posts about your kids and the way you honor your grandfather is heartwarming. You are one of the good guys!
Denise Diggan
This has always been true heart emoticon You are one of the good guys, for sure!
Kimberly Kincaid
One or two give cover models a bad name! You have never been one of them! Yes you have a heart of gold!
Pamela Stanton Seres
My favorite good bad guy!! Love ya and bring on Atlanta when we can catch up again. Xo
Khloe Wren
Love your style.
Gwen Steel
Loving the positive vibe!
Angela Kay Austin
You are such a sweetheart!
Ann Sutphin
Such a great guy.
Jillian Bullock
You are awesome John Joseph Quinlan!
Sandy Shrewsbury
You're the best!
Stephanie Taylor
You are a good guy John. From the state of my birth…you are wicked pissah.
Stacy Wilson
You most certainly are one of the good guys, John. There is nothing bad I can say about you, and in this industry that is rare. Keep being who you are and being true to yourself. You know who you answer to and the importance of integrity. Thanks for be a blessing and sharing who you are with all of us.
Claire Gager
Well-said and so true!!
Liz Thomas
You are amazing John!!
Kristy Brown
I didn't attend the RT convention so I don't know what the drama but I always have found you to be a very friendly man.
Sarah Disinger Hoss
Opinions are like assholes, everyone has one. If your opinion includes degrading the very women who add to your paycheck, keep it to yourself. Shout out to classy cover models like Scott Nova and John Joseph Quinlan who have always shown respect.
Missy Jane
Just wanted to thank you for being a great role model.
Claudia Bost
John Joseph is great to work with, serious and dedicated to any endeavor or project. I would recommend him highly. We worked on several projects together and continue to do so.
Anna Patterson
Thank you for being a good guy. Keep being you!
Elizabeth Hankla Brown
You really are am amazing man John.
Opal Campbell
We love you.
Tiffany Landers
Who is John Joseph Quinlan? He is a:
Cover Model
Clothing Model
Fitness Trainer
NPC Physique Competitor
He competed in 25 NPC competitions!!
He is a 5X Men's Physique Champion
He was a wrestler
Baseball player
And now, embarking on his greatest adventure yet, ACTING!
A man who wears many hats, but I am so proud to know him, not only in name, but as a true friend of mine. He is such a sweet man with one of the biggest hearts I have ever seen. I am honored to know him. I can't wait to see what the next few years bring his way. In 9 days he will be going back to film his portion of the movie trailer, A Sense of Purpose: Fighting For Our Lives. It will be coming to theaters in November 2017!! Show him some love by following him on his many Facebook pages or Instagram and Twitter.
Allison Tee
I feel so honored to have encountered John Joseph Quinlan and gotten to know him through my radio show. When I first 'met' John on social media, I had the feeling that he was a nice man. When I got to speak with him on our radio show, I knew I was right. John is a nice man with a huge heart for kids.
A little boy named Harrison, from the UK is one of John's biggest fans. Here is a letter from Harrison's mother.
"John just to let you know you have a little boy with a disability over here in the UK as one of your biggest fans. Every time he sits next to me when I am on Facebook, and he sees you he says to me, "mom I know I have muscle problems but seeing your friend John he inspires me to do my physio and exercises to get strong like John Quinlan." So thank you.
John's reply:
"To Master Harrison, Keep up the great work! Your friend always, John Quinlan."
John says:
"If I can make a difference in even one kid's life, then I feel accomplished."
Thanks, John, for being you.
Lisa Vandiver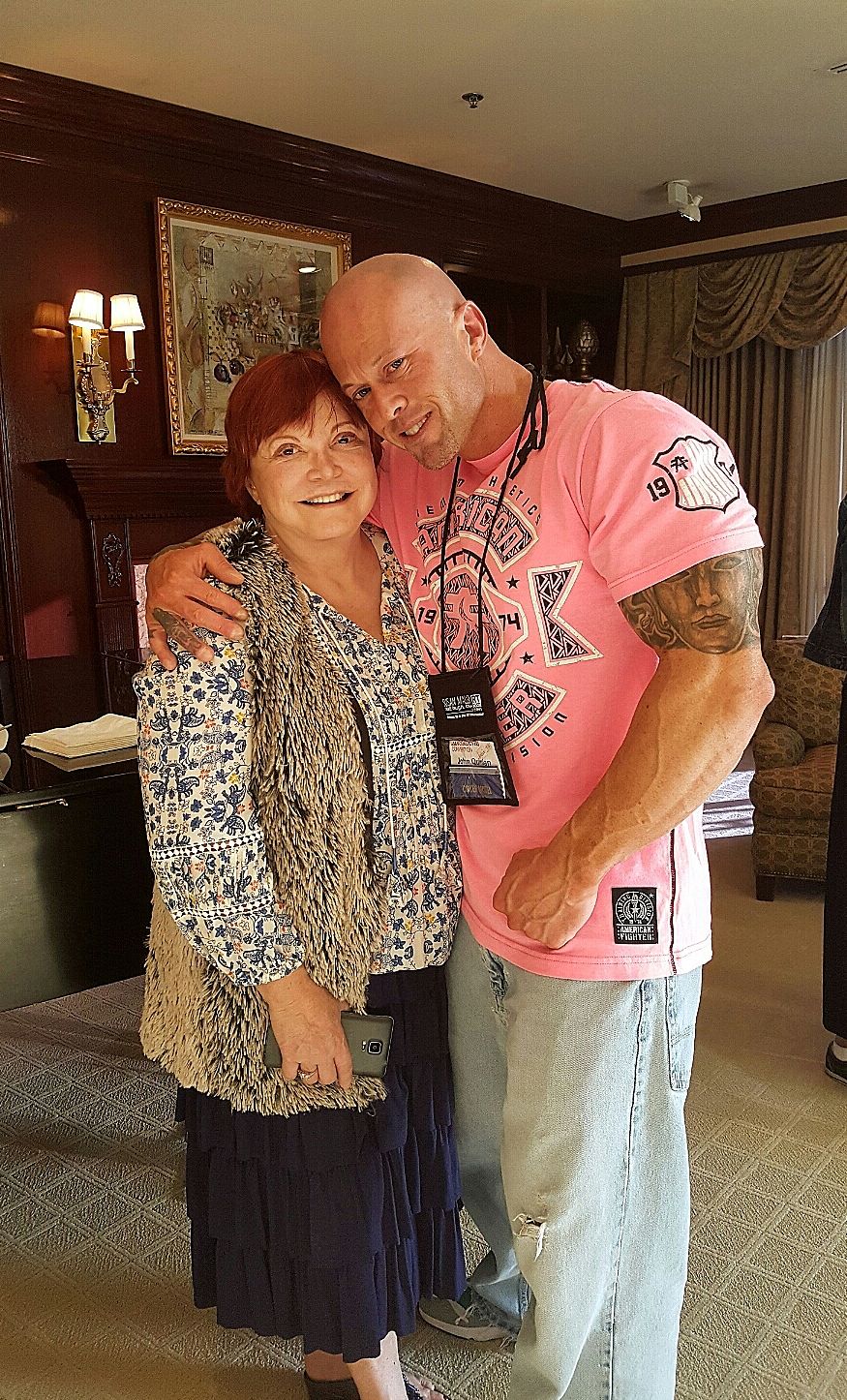 With Founder / Owner of RT Book Reviews Magazine & RT Convention Kathryn Falk